Follow in the footsteps of Marie Byles, NSW's first female solicitor, to explore the hidden gems of the Central Coast.
It was the roaring 1920s; a decade of pushing boundaries and blazing trails. An audacious law student named Marie Byles strapped a machete and a pistol to her knickers, jumped on a train from Central station to Woy Woy, and became the first non-Indigenous person to hack through the scrub of Bouddi Peninsula on NSW's Central Coast. 
It seems fitting that Byles, later admitted as the first female solicitor in NSW, was first among an impending wave of corporate suits to flee the concrete jungle seeking bush seclusion within a couple hours' reach of Sydney. Her intrepid journey even earned naming rights to a famous viewpoint at Killcare Heights, on the edge of Bouddi National Park. 
I am learning this as I stand on the commanding precipice of Marie Byles Lookout, sucking in gulps of salty air as I squint south at Sydney's hazy skyline. I can just make out shapes of Sydney Tower and the Bondi Junction Westfield. The city, with its heckling pace and pressure, is an insignificant grey blob on the horizon. Easy to see why Byles was drawn to this new perspective.
Little has changed in the century since Byles stood on the same crest. Sydneysiders still look north to the ragged shores across the Hawkesbury River for their weekend escape. Most of the peninsula remains reassuringly wild thanks to the establishment of the national park in 1967 (which Byles campaigned for, despite her machete-wielding antics).
Casting my eyes inland, however, brings into view two things that have changed: accessibility and accommodation. The first has been made a lot easier with the M1 motorway offering 90 minutes of smooth tarmac from the Sydney CBD to the Central Coast. 
As for accommodation, Airbnb and holiday rentals are growing as the Central Coast begins to shake off an unwarranted reputation as a sleepy, unsophisticated nook of the NSW coast. But for those seeking refuge from all chores and decision-making, there are two luxe options.
The first, Bells at Killcare, is a five-star luxury boutique hotel with an awarded restaurant and day spa. Wealthy Australian entrepreneur John Singleton took over the property with business partner Brian Barry in the early 2000s and together they styled it like a Hamptons mansion, spritzing the Australian bush with New York elegance (before Barry bought out Singleton's share in 2016). They decked out 25 generously sized private cottages with antique copper bathtubs, manicured green lawns, a pool with striped deck chairs, and a world-class seafood restaurant with menu overseen by chef Sean Connolly – known to Sydneysiders for his creations at Morrison's Bar & Oyster Room.
The other, Pretty Beach House, is an uber-exclusive lodge retreat that can accommodate up to eight guests. Barry (who handles the business here while Singleton owns the land) tells me billionaire Bill Gates stays here with his family when he visits Sydney and wants to escape the city. If the founder of the Microsoft empire can find solitude within two hours of Australia's busiest metropolis, the team must be doing something right.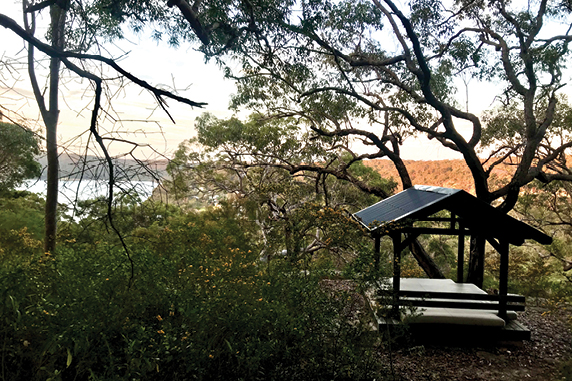 This is the base from which I have launched my Marie Byles-inspired foot journey to the crest of Bouddi. I have huffed and hacked through eight-plus kilometres of wilderness on a trail known as the Bouddi Coastal Walk, stopping only to gape at deserted beaches with idyllic, aquamarine water. I'll admit to having some modern advantages over Byles in an iPhone, Google Maps and national park signage. But my secret fuel is the knowledge this challenge will end with indulgences like a private heated plunge pool and five-course degustation dinner with matching wines at Pretty Beach House.
After dinner, there's the inevitable tipsy flop into my "pavilion", which is the size of an entire lodge itself. It has a bush trail leading up to a wood-panelled deck, spacious lounge, walk-in robe, cavernous bathroom, and three – count them, three – separate shower spaces. The styling is quintessentially Australian, with recycled timbers, natural fabrics and art from A-listers like Sidney Nolan. I delight in details like the vinyl record player with Bruce Springsteen albums in a drawer.
Stress doesn't exist here. The staff pour copious champagne on it from the moment I arrive. As a mental weight lifts from my shoulders, Chef Dean Jones (who earned Michelin stripes in London) dutifully shifts the load to my belly with enormous barbequed chilli prawns one day, braised lamb shoulder the next.
Yes, Pretty Beach House is a significant upgrade from the campsites Byles erected here a century ago. The $2,000-a-night price tag reflects that. But with overseas holidays off the cards, some readers may have wiggle room in their travel budgets to splurge. What's a few grand to turn back time and escape 2020, anyway?
CHECKLIST
GET THERE: Pretty Beach House is a 90-minute drive from the Sydney CBD. For the ultimate indulgence, you can take a private charter flight to the resort (see prettybeachhouse.com).
STAY THERE: Rates from $2,000 per night, inclusive of meals and select alcoholic beverages.
THINGS TO DO: Hike through the Bouddi National Park, kayak or paddleboard on the bay, or take an extraordinary tour with Broken Bay Pearl Farm to learn how local Akoya pearls are harvested.